Submit your cv
Get started on finding your perfect job.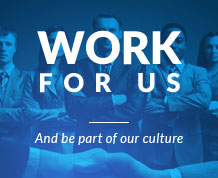 Chief Executive Officer – Theatre & Performing Arts (Saudi Nationals Only)
Posted on 17 Jul 2018
Location: Riyadh
Consulting
Riyadh, Kingdom of Saudi Arabia
Key Responsibilities will include:
Provide leadership and overall management of the Theater and Performance Departments
Work closely with the Group CEO and sub-departments to articulate and implement a clear vision and ambitious, achievable strategies and programs
Oversee provision of non-financial support to performing artists, including education, professional associations, incubators, residencies
Develop internal strategy to prioritize genres for development, and offering
Overview the financial planning, budgeting, all aspects of cash management, investment management of Theater and Performance Departments
Lead and direct the team through continuous improvement of departmental systems, processes and practices
Set performance objectives, conduct regular performance reviews for the team, provide regular feedback on performance and assess to guarantee a high-performance working environment.
Establish and maintain good working relationships with internal and external key stakeholders.
Oversee design of skill development programs, design and execution of financial support and other incentive programs
Direct performing arts offering calendar
Evaluate applications for all funding support and provide inputs to relevant committees
Direct analyzing grant needs based on artist financial requirements
Oversee engagement with artists, and creative companies, seeking government funding
Oversee connection of artists and creative companies with alternative funding sources
Who we're looking for:
Postgraduate qualification in Communications, Theater and Performance, Production or similar fields
10+ years of experience in similar roles in public or private sectors
8+ years of managerial/ supervisory experience
Fluent in both Arabic and English
What's on offer:
Attractive Salary Package (basic + other allowanceS)
Medical Insurance
Contact
Job Ref: TI-y7fk
Your application will be sent to Qasim Siddique.