Submit your cv
Get started on finding your perfect job.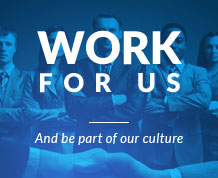 Posted on 30 Aug 2021
Location: Dubai
FMCG
Dubai, United Arab Emirates
Key Responsibilities will include:
Our client - a large Family office group is looking to recruit Group Head of IT (reporting directly to the CEO) in their HO in Dubai - UAE.
This is the chief position in IT department and primary job responsibilities will be to partners at all levels of the organization to develop, implement, and execute an organization-wide IT strategy that optimizes employee capabilities, achieves the organization's strategic objectives and delivers competitive advantage.
Primary job responsibilities include:
Direct and manage information technology strategic plans, policies, programs and schedules for business and finance data processing, computer services, network communications, security and management information services to accomplish corporate goals and objectives.
Lead the development and implementation of strategy for a strategic function, anticipating complex national and international challenges and opportunities, and ensuring integration with wider corporate strategy.
Work closely with MD's of operating entities to create strategic plans for the business' future growth.
Develop information systems tools to help businesses succeed in a global environment
IT Capacity planning, budgeting and forecasting.
Provide expert technical advice on various technology solutions (ERP, Internet solutions, Infrastructure, Networking and Security etc.)
Managed the existing technology environment while developing forward-looking investment initiatives.
Ensure the delivery of IT services to the standards expected and to manage the demands of the business in a manner to meet the expectations of quality, cost and time in terms of delivery.
Lead Innovation, experiment with new retail solutions for the business and drive growth.
Implement IT Policies, Governance and PMO.
Ensure that all IT Programs are delivered in accordance with the corporate approach to project management and are delivered within time/scope and budget
Participate in the development of corporate strategy for an international organization, providing functional leadership and challenge to test the viability of the strategy and contributing creative ideas and insights to support the strategy formation process.
Who we're looking for:
Experience in manufacturing industry is a must!!
What's on offer:
Attractive monthly salary
Annual performance bonus
Family medical insurance
Attractive family air fare
Contact
Job Ref: TI-tsn5
Your application will be sent to Humair Khan.