Submit your cv
Get started on finding your perfect job.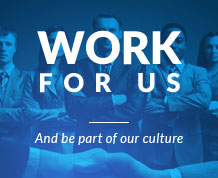 Tiro International Employment Brokerage Office Services, Aspin Commercial Tower, Skeikh Zayed Road, P.O.Box 413038, Dubai, United Arab Emirates ("Tiro International", "we, us, our") is a leader in the recruitment industry. Tiro International acts as the data controller of personal information obtained from companies with a need for recruitment services ("Clients") and of personal information submitted by candidates who are interested in job postings ("Candidates", Clients and Candidates together referred to as "you"). We want to reassure you that we take the collection, use and retention of your personal information seriously and below we specify how we use the information we have about you.
Collecting your information
Our main aim is to provide our recruitment services to you and to facilitate the recruitment process. In order to fulfil our legal and business obligations we collect your Personal Data such as your name, business address, company details, business telephone numbers, email address and, if you are a Candidate, information you supply to us on your CV (including your home address, telephone number and your email address). When you visit our website http://www.tirointernational.com , our web server stores the IP address of your Internet Service Provider and the date and duration of your visit.
We may record telephone calls we have with you for record keeping, training or quality assurance purposes. Each phone call will be preceded by an announcement of the possible recording and you can simply hang up the phone if you do not consent to the recording.
The provision of your Personal Data may be mandatory in order to process your requests and for us to provide a service to you. If so, mandatory fields will be marked with an asterisk or any equivalent on our on-line forms. Failure to provide mandatory data may prohibit Tiro International from providing the requested service.
Using your information
Your information will be retained, processed and disclosed by us in the following ways:
For Candidates
To allow you to submit a CV, to apply for jobs advertised on our websites;
To facilitate the recruitment process, by matching your personal details to job opportunities);
To keep you informed of job opportunities;
To preserve our business relationship with you as a user of our website;
To carry out our obligations arising from any contracts entered into between you and us. As a result, your information will be accessible to and processed by our internal recruitment consultants, responsible management, human resources, accounting, audit, compliance, information technology, legal and other corporate staff, only if they have a legitimate business need to do so;
To notify you about changes to our service.
By using this website and entering your Personal Data, you consent to processing and use of your data as described in this Privacy Statement.
Rights of access, modification and objection
Please contact info@tirointernational.com , in the event that you:
Have any queries about the information that we hold about you;
Wish to inform us of any changes to your information or wish to correct the information we hold about you;
Have any requests with regard to our processing of your personal data;
Decide at any time that you no longer wish to receive marketing emails from us or our group companies, please either email the above address or follow the unsubscribe link in one of our marketing email messages to you. Please note that if you opt out of receiving marketing emails from us, we may still use your information to assist you in your search for a role or to fill a job vacancy;
Wish to access information held about you. On request, we will provide information in writing about your information and Personal Data stored on our database and its origin;
Do not wish us to hold your information, you are entitled to tell us at any time and we will remove all such information as specified by you from our database.
Sharing your information
We want to provide as full a service as possible and support you in your recruitment needs. We appreciate that candidates with specialist expertise have a strong preference for dealing with equally specialist recruiters. In turn, the recruiter is able to offer clients higher quality candidates.
Cookies
We use cookies in order to prepare statistics of users' preferences and to help you navigate the website. Cookies are small text files that are temporarily stored on your local hard disc. Our cookies cannot run programs or bring viruses to your computer.
Most browsers automatically accept cookies, but you can deactivate this function at any time and set your browser to notify you whenever a cookie is sent. If you want to know how to do this please look at the help menu on your browser. However, switching off cookies may restrict your use of our website.
Hyperlinks
Our website may contain links to other websites, which are outside our control and are not covered by this statement. If you access other sites using the links provided, the operators of these sites may collect information from you, which will be used by them in accordance with their privacy policy, which may differ from ours.
Data quality
We rely on you to ensure that your information is complete, accurate and current. Please do inform us promptly of any changes to or inaccuracies of your information.
Data retention
We hold your data with a view to providing future recruitment services to you and to manage the business relationship. In the event that the business relationship ceases we confirm that we will delete personal data in accordance with our legal obligations.
Security measures
We have appropriate technical and organisational security measures in place to ensure the security of your information and to protect it against deliberate or accidental manipulation, destruction, loss or unauthorised access.
Despite our efforts regarding security it is important to bear in mind that the internet is not a secure means of communication. Personal Information communicated through the internet may be intercepted by other people. We cannot guarantee the security of Personal Information sent to us through this website. By using this website and entering your Personal Data, you accept that you use this website at your own risk.
Changes to this Policy
Any changes we make to our Privacy Policy in future will be posted on this page. We encourage you to check the date of our Privacy Policy whenever you visit our website for any updates or changes.